© Copyright 2013 - 2018  Coral Springs Orchid Society. All rights reserved.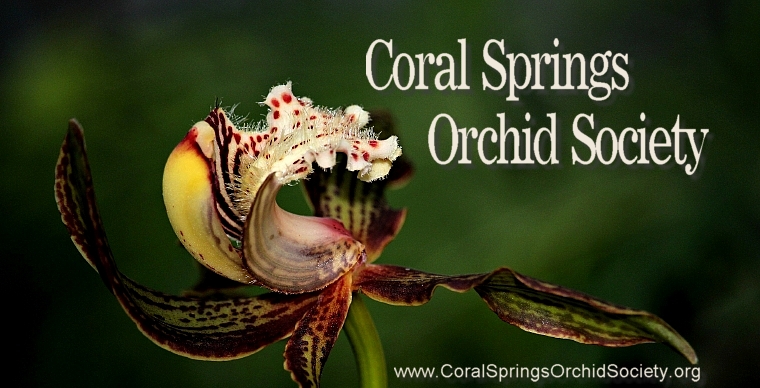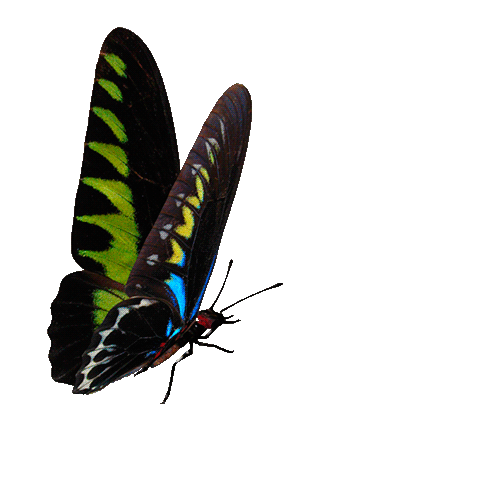 February 2019 Newsletter

Click image above to enlarge.

CSOS Feb 2019 Ramble Carol Kong

Our February Members Only Ramble was held at the home of Carol Kong-Quee. We had a great turn out & Carol gave us a tour of her many species of orchids throughout her property. Carol provided some fabulous foods for our members to enjoyed! Thank you Carol for hosting us!

Judy Baily - Speaker

Our January speaker was Judy Bailey. Judy presented a member's orchid slide presentation on pests, diseases & growing environments. The evening was both fun & educational. Thank you Judy!

January 2019 - Members Only Ramble - Anwar Thompson

Our January 2019 Member Only Ramble was at the home of Anwar Thompson. Anwar gave us a tour of his beautiful orchids throughout his landscape as well as his growing tips that are so successful for him. It was a wonderful afternoon that we all enjoyed. Enjoy the video!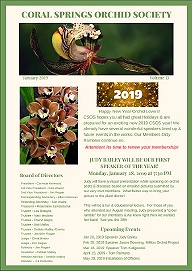 January 2019 Newsletter

Click image above to enlarge.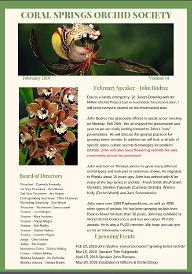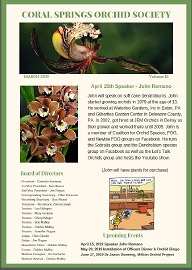 March 2019 Newsletter

Click image above to enlarge.

CSOS April 15, 2019 Meeting with John Romano

Our speaker for our April Meeting Speaker John Romano who gave a great presentation on soft cane dendrobiums. John had many plants available for purchase. Thank you John for an informative but fun evening.

Coral Springs Orchid Society

Our speaker March 18 was Tom Kuligowski. He is an avid orchid grower specializing in angraecums. He is also an award-winning photographer with over 45 years of experience. Tom Kuligowski has long been known as the "Angraecum Man." This presentation will provide both hobbyists and serious growers with fundamental guidelines to grow these beauties successfully and in turn, grace you with years of enjoyment.

CSOS February 25, 2019 Speaker, John Budree

Another great presentation by John Budree! There was a full house as John spoke on several topics including growing better orchids in So Fl. Of course we all enjoyed his blooming orchids for sale. Thank you John.

CSOS April 2019 Ramble Budree

The Coral Springs Orchid Society "Members Only" Ramble was held at the home of John Budree! A great time everyone had & we all enjoyed doing some orchid shopping! Enjoy the video.

CSOS & SOS Bus Ramble to the Vendors April 2019

Coral Springs Orchid Society & Sunrise Orchid Society combined to fill the bus to 4 orchid vendors. First stop RF Orchids which included a private tour of the grounds around the home of owner Robert Fuchs. Then on to Soroa Orchids where we had a delicious Cuban Buffet by Jose. Next stop Ofe International & Amazonia Orchids with our final stop at Banjong Orchids! Enjoy the video!

CSOS Initation Dinner Bingo May 2019

What a great turn out we had for our Installation of Officers for the 2019-2020 year! The evening included an Italian Buffet, 50/50 & Orchid Bingo! It was nice to take a break from lectures & just let loose a little with the benefit of having orchids as rewards! It was a night to spend some time with each other, have some great food, win orchids & enjoy some good comraderie! Here is a short video of some of the evening.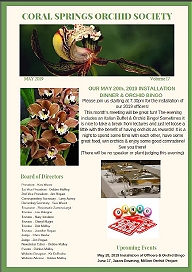 May 2019 Newsletter

Click image above to enlarge.

Sawgrass 2019 email

Thank you everyone who stopped by to chat "orchids" with us! Everyone took advantage of signing up for our "free" raffle to win a beautiful orchid! We want to welcome our new members that signed up this weekend! Over 20 orchid vendors, plant, & garden art vendors, delicious food and meet some wildlife friends. Sat & Sun April 6th & 7th 9:30 - 4:30 Enjoy the picture slide show. A special thank you goes to Larry, Sue, Ken, Debbie, Bob, Debbi R, Lydia, Bernie, Rosemarie & Bob Z.

June 2019 Newsletter

Click image above to enlarge.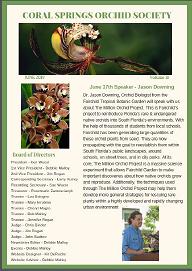 CSOS June 17, 2019 Meeting with guest speaker Dr Jason Downing

Despite bad weather, we had a great turn out for our June meeting with Dr Jason Downing as our guest speaker. Jason spoke on how the Million Orchid Project's goal is propagating one million native orchid plants for reintroduction into South Florida's urban landscapes.

CSOS July 15, 2019 Speaker Prem Subrahmanyam

Our speaker for July 15th will be Prem Subrahmanyam. Prem will speak on "Common Native Orchids of Florida." Prem became interested in orchids at a young age in his boyhood home in Tallahassee, Florida. This was the beginning of a life-long passion for this amazing family of plants. He soon located native orchid species growing in wild areas near his boyhood home, launching a journey of discovery of Florida's amazing native orchids, including the rare and elusive Ghost Orchid.

CSOS Member Ramble July 27 2019

Despite record heat we had a record turnout for our July 27th Member Only Ramble at the home of May Muench. May has a tropical paradise of various plants & orchids. The day included a tour, lots of delicious food & drinks & a free raffle of donated plants! There will be no ramble in Aug due to heat but we will resume again in Septemember!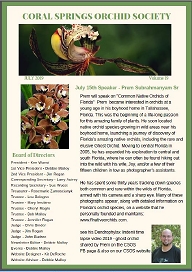 July 2019 Newsletter

Click image above to enlarge.

August 2019 Newsletter

Click image above to enlarge.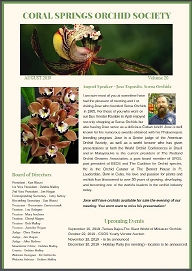 We were so excited to welcome Jose Exposito from Soroa Orchids as our August speaker! We had one of the largest turn outs to hear him speak! Everyone enjoyed his informative but entertaining presentation on orchid growing followed by questions & answers (and there were many questions) Thank you Jose for a wonderful evening!

OUR SEPTEMBER speaker was Tomas Bajza speaking on "Giant World of Miniature Orchids & Simple Setups".Tomas Bajza reached a momentous conclusion some 10 years ago: He could not continue to grow large orchids on an apartment balcony! So he got rid of all his large plants and embarked on a venture that enabled him to overcome the skeptics. In the last decade, he has succeeded in growing miniature orchids, not only on that fifth-floor balcony, but also inside the apartment. And many of those plants are considered to be better suited for cooler climates. Tomas places diminutive orchids into three categories: micro, miniature, and small. Thank you for a great presentation!

Coral Springs Orchid Society Ramble at Lori Parrish's home Oct 2019

CSOS Members were honored to be invited by Lori Parrish to host our Members Only Ramble at her home Oct 27th. Despite the heat we had a record turn out to tour her "orchid paradise". We want to thank Lori & some of our members for a delicious refreshment table with food & drinks. Members also enjoyed free raffle items. Thank you Lori for a wonderful afternoon!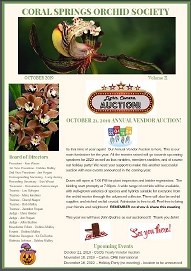 October 2019 Newsletter

Click image above to enlarge.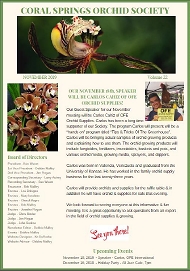 November 2019 Newsletter

Click image above to enlarge.

CSOS Nov 2019 speaker Carlos/Ofe Orchid Supplies

Our Guest Speaker for our November 18th meeting was Carlos Cahiz of OFE Orchid Supplies. Carlos has been a long time supporter of our Society. Carlos presented a "hands on" program titled "Tips & Tricks Of The Greenhouse" We had a great turnout & also an informative Q&A session. Thank you Carlos for an enjoyable & informative evening!

Coral Springs Orchid Society Holiday Party 2019 at All That Jazz Cafe

Our 2019 holiday party was amazing! We had an overwhelming response & we filled the restaurant (which was closed to the public). We had so much fun with raffles, a great buffet, cash bar, grab bags & a piano player for the evening! Each attending member received an orchid for their support in the 2019 year. We are looking forward to another great year in 2020! See you then!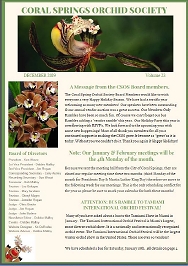 December 2019 Newsletter

Click image above to enlarge.