Our speaker will be Prem Subrahmanyam.  Prem will speak on "Common Native Orchids of Florida"  Prem  became interested in orchids at a young age in his boyhood home in Tallahassee, Florida. This was the beginning of a life-long passion for this amazing family of plants. He soon located native orchid species growing in wild areas near his boyhood home, launching a journey of discovery of Florida's amazing native orchids, including the rare and elusive Ghost Orchid. Moving to central Florida in 2005, he has expanded his exploration to central and south Florida, where he can often be found hiking out into the wild with his wife, Joy, and/or a few of their fifteen children in tow as photographer's assistants.

He has spent some thirty years tracking down species both common and rare within the wilds of Florida, armed with his camera and a sharp eye. Many of these photographs appear, along with detailed information on Florida's orchid species, on a website that he personally founded and maintains: www.flnativeorchids.com. His photographs and articles have also appeared in many orchid related magazines, wildflowers guides, and books.  Please join us for a most informative evening. Guests are always welcome!

Dendrophylax lindenii time lapse 2019 - the ghost orchid shared from Prem Subrahmanyam Sr. FB Page. See below...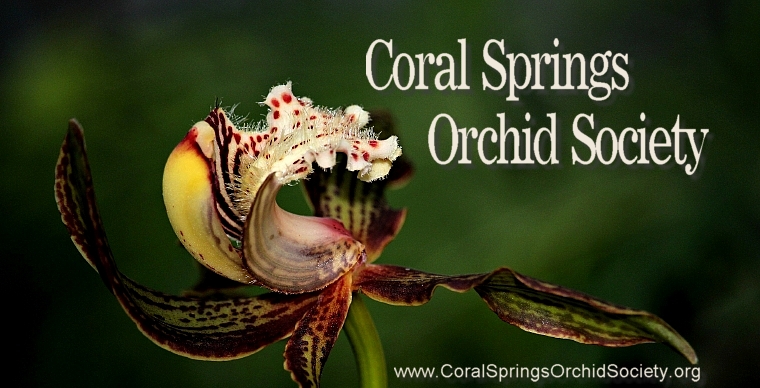 © Copyright 2013 - 2018  Coral Springs Orchid Society. All rights reserved.

Cypress Park Hall

1300 Coral Springs Drive

Coral Springs, FL 33071